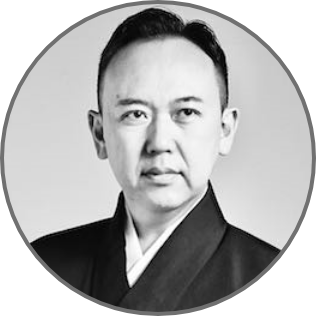 Kazumasa Nishikawa
Head Master & Executive Producer
Nishikawa Ryu's dancers, including the Iemoto (leader), have choreographed and directed movies and television productions, and have been popularizing the NOSS exercise using Japanese dance for over 15 years.
The current Iemoto, Kazumasa Nishikawa, has an international background. He graduated from an international school in Nagoya and studied Modern Art at the School of Visual Arts in New York. Since he returned to Japan, he has continued his innovative activities with his classical training.
He also produces performances with modern singers, actors and dancers and writes, directs, composes and produces art himself.
He has many activities as a bridge between Japan and abroad. He is currently teaching Japanese culture in English as a visiting professor at Nagoya University of Foreign Studies and several other universities. He also performed at the 2014 Ise-Shima Summit, the 2016 Ministry of Foreign Affairs, and the 2019 G20 Foreign Ministers Summit, with his own commentary in English.
He also cooperates in education in other areas such as business and health. He also earned his Master's degree in Rehabilitation Education and Science from Fujita Health University in 2019.


Main appearances
Nagoya Odori (Chunichi Theater)
Hinagikukai (Aichi Prefectural Art Theater)
others
1969

Born in Nagoya as the eldest son of Ukon Nishikawa

1987

Graduates from Nagoya International School

1991

Graduates from School of Visual Arts with Bachelor of Fine Arts

1996

Works as Personality at Tokai Radio "Kazumasa Nishikawa's Great Nagoya Radio Cafe"

2006

Works at Sora no Kai Musical "Kaiarashi" 2006 Performing Arts Institute "Kabuki Friends"

2009

Appeares in the CBC drama "My Way". Composes in the new dance drama "Ana" (written by Yoji Aoi)

2010

Partially produces the 400th anniversary ceremony of Nagoya

2011

Produces Aoi Bushō-tai, Great Ieyasu, in Okazaki City, Aichi Prefecture
Produces Aichi Sengoku Himetai

2012

Produces and choreographes the new song "Mi (N) Natodori" at the Nagoya Minato Festival

2013

Functions as Executive Committee Chairman of Aichi Triennale Festival Week "Re: ALICE"
Performs in the "Hikari no Kioku 2" exhibition with Kahide Kurachi, Tamami Kodama, Daiei Sasano, and Makoto Takahashi.
Functions as NAMO advisor, scriptwriter and director of the play "Ukiyo no WONDERLAND" in the Endoji Shopping Street.
Composes and choreographs Nagoya City "Yattokame Cultural Festival"

2014

Become fourth Iemoto of Nishikawa Ryu in September
Gives guidance to disciples nationwide.
Directs "Yattokame Cultural Festival" and appears in "Exciting! Sada Yacco Ichiza".

2015

Organizes "Nagoya Odori", and makes the "Declaration of Nagoya Odori for Tourism" to bring the traditional performing arts closer to the citizens' lives.
Appeares on NHK's "Nippon Performing Arts".
Directs "Yattokame Cultural Festival" and stars in street Kabuki "Saburo Nagoya and Okuni" (original draft by Motohiko Izawa)

2016

Works as the welcome reception for the leaders of the Ise-Shima Summit Outreach. Produces the Sengoku opera "Honnoji Burns".
Plays the role of Oberon in the English drama "Midsummer Night's Dream" by foreigner-dominated "Nameless Theatre". Appeares on NHK's "Nippon Performing Arts". Composes Aichi Triennale "Rainbow Carnival". Produces ANET Interdisciplinary collaboration performance "Pilgrimage". Works as the general producer of the Agency for Cultural Affairs "Aichi National Cultural Festival".Co-stars at Kariya Cultural Center Iris Orchestra Beethoven and Lion. Directs "Okehazama Battle Reproduction Event" in Nagoya City. Performs at "Kawabun Kabuki" written by Yukihiko Tsutsumi and directed by Norihiko Tsukuda, at a restaurant with a history of 400 years. Advises at Kabuki Cafe NAGOYAZA in Endoji. Directs "Yattokame Cultural Festival" and stars in street Kabuki "Evil Shichibei Kagekiyo" (original draft by Motohiko Izawa).

2017

Supervises NINJAGO's puppet show at the Nagoya LEGOLAND Puppet Show. Organizes English event "IEMOTO x SUKIYAKI" at Ningyocho Imahan. Guides at F.ENT Otome Button. Lectures an "English Drama Class" at Nagoya Morning University.
Comprehensively produces the Sengoku opera "Honnoji Burns". Nagoya Odori celebrates its 70th anniversary. Visits the Nishikawa Ryu Taiwan branch. Appears as a guest in Hong Kong opera "Sangokushi" directed by Lee Imei from Hong Kong.

2019

March Firewood stage at Hikamianego Shrine. April-December Works as a navigator for the 50th anniversary program "Oise-miri" on Mie Television.
August Produces 72nd Nagoya Odori (August 23-26 Misonoza) September Makes an appearance at the Rugby World Cup Nagoya City Georgia Welcome Event. Comprehensively produces the "hospitality area" in Toyota City.
November 22. Performs "Renjishi" at the G20 Foreign Ministers' Meeting Cultural Project (Kawabun).

Present

Works as a visiting professor, Nagoya University of Foreign Studies
Works as a part-time lecturer at Aichi Shukutoku University
Works as director of Aichi Arts and Culture Association
Works as secretary of Nagoya Japan Dance Association
Produces PRINCESS SAMURAI of JAPAN Aichi Sengoku Himetai